Calendar of Events
Saturday, October 21, 2017
The Muse Knoxville: STEAM Carnival Family Fun Day
October 21, 2017
10 AM - 2 PM
Category: Exhibitions & visual art, Festivals & special events, Fine Crafts, Free event, Kids & family, Music and Science & nature
Help us cap off the TN Steam Festival with a family-freindly carnival at The Muse! Be inspired at this event with immersive activities, play and fun! Activities include a magic show, live music, science demos, arts and crafts, special characters and more!
FREE! http://themuseknoxville.org/steam-carnival
The Muse Knoxville, 516 N. Beaman Street, Knoxville, TN 37914. Information: 865-594-1494, www.themuseknoxville.org
Arab American Club of Knoxville: ArabFest 2017
October 20, 2017 — October 21, 2017
Category: Culinary arts, Dance, Exhibitions & visual art, Festivals & special events, Fine Crafts, Free event, Kids & family and Music
by Arab American Club of Knoxville And Yassin Falafel House
great food items
Coffee drinking and fortune teller
Middle East photo booth
nonstop upbeat and beautiful music
wonderful cooking demonstration
children and youth dance ensembles
UT Middle East Music ensemble performances like no other
a traditional and modern day Middle East fashion show
fantastic belly dancing
Debke (Chaine Dancings)
Falafel Eating Contest
Bazaar Market
Much Much More!
1620 Melrose Ave., University Of Tennessee Pedestrian Walkway, Knoxville, Tennessee 37996
https://www.facebook.com/events/2085485078346443
Arrowmont: Works by Eva Polizzi & Laura Duerwald
October 18, 2017 — December 6, 2017
Category: Exhibitions & visual art, Fine Crafts and Free event
In the GEOFFREY A. WOLPERT GALLERY
Arrowmont School of Arts and Crafts, 556 Parkway, Gatlinburg, TN 37738. Gallery hours are Monday – Friday 9:00 am – 5:00 pm and Saturday and Sunday 10:00 am – 4:00 pm. Information: 865-436-5860, www.arrowmont.org
Sevierville Common Arts Council: Make It and Take Event
October 7, 2017 — October 21, 2017
10 AM - 1 PM
Category: Exhibitions & visual art, Fine Crafts and Free event
We are promoting this event as part of American Craft Week. We will have FREE hands-on Make It and Take Events in our new Arts In Common Gallery at 129 Bruce Street in Historic downtown Sevierville on October 7 and 21, 10am - 1pm
The Sevierville Commons Arts Council is a neighborhood revitalization organization of individuals, artists, studios, galleries and businesses dedicated to the promotion and awareness of the arts & culture through education, entertainment, community interaction and trade in Sevierville and Sevier County, TN. For more information, visit www.SeviervilleCommonsArtsCouncil.org. Info: 865-804-3864 or jillgreenephoto@gmail.com
Rala: Sculptural Work by Pippin Long
October 6, 2017 — October 28, 2017
Category: Exhibitions & visual art, Fine Crafts and Free event
Hosted by Rala: Regional and Local Artisans
Rala is proud to introduce new sculptural work by Pippin Long. She is a native Tennessean and a recent graduate of UT Knoxville with a degree in art. She currently lives in Asheville, NC where she spends her time sculpting faces, painting, and hiking with her dog Egon.
Opening reception October 6th from 6-9pm
Rala, 112 W. Jackson Ave, Knoxville, TN 37902. Information: 865-525-7888, https://shoprala.com/
Art Market Gallery: Mary Saylor and Nelson Zeigler
October 1, 2017 — October 31, 2017
Category: Exhibitions & visual art, Fine Crafts and Free event
Recent works by Paper-mache Sculptor Mary Saylor, and Painter Nelson Zeigler will be on display. An opening reception for the featured artists will begin at 5:30 p.m., October 6th, during Downtown Knoxville's monthly First Friday Art Walk. There will be complimentary refreshments.
Nelson Zeigler, of Sevierville, Tennessee in the Smoky Mountains, is a graduate of The Art Institute of Boston and Northwestern Academy of Watercolor. He has won many awards for both his painting and woodturning, both regionally and nationally. Among them, Gold Medal for watercolor at the American Artists Professional League, Honorable Mention-The Artist's Magazine annual competition
He was chosen the Spring Wildflower Pilgrimage artist of the year in 2016. He has participated in numerous juried exhibitions in New York including Allied Artists, American Artists Professional League, Salmagundi Club, Knickerbocker Artists, National Arts Club, Hudson Valley Arts Association, as well as Adirondack National Watercolor Exhibition, Faces of America (a national watercolor portrait show), Academic Artists Association, Springfield Arts League, Springfield, MA, Guild of Boston Artists, Copley Society, Boston, MA, North Shore Arts Association, Gloucester, MA, Tennessee Watercolor Society and Arrowmont School of Arts & Crafts. A member of the National Watercolor Society, New England Watercolor Society, The Oil Painters of America and the Northshore Art Association and the American Association of Woodturners. Nelson's works are in many private and corporate collections throughout the country. www.nelsonzieglerstudio.com
Mary Saylor has been fascinated by all sorts of artistic endeavors from her childhood and was raised by parents who themselves were creative individuals. Mary obtained a Bachelor of Fine Arts degree from Ohio University with a minor in Sculpture and over the years, she has dabbled in various creative outlets including drawing, quilting, painting, woodcarving and clay, but recently has focused on paper mâché sculptures. Mary has a profound love and appreciation of all animals, great and small, and this devotion is clearly seen in her whimsical, humorous animal sculptures. She thoroughly enjoys the process of creating each and every piece and hopes they bring nearly as much happiness and joy to everyone who views them.
Art Market Gallery, 422 S. Gay St, Knoxville, TN 37902. Hours: Tu-Th & Sa 11-6, Fri 11-9, Su 1-5. Information: 865-525-5265, www.artmarketgallery.net
McClung Museum: Northwest Coast Art: A Community of Tradition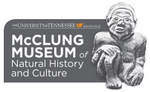 September 8, 2017 — December 31, 2017
Category: Exhibitions & visual art, Fine Crafts, Free event, History & heritage and Science & nature
For thousands of years Northwest Coast Indians including the Coast Salish, Haida, Kwakwa̱ka̱'wakw, Makah, Nuu-chah-nulth, and Tlingit peoples represented in this exhibition, have made art expressing their cultural norms and values with precision, clarity, and artistic exuberance. Using indigenous and trade materials obtained in their homes along the coast of Oregon and north to Alaska, Northwest coast peoples mark elaborate ceremonial life, social rank, and prestige through their objects and art.
This exhibition explores Northwest Coast art through over 60 objects made by known and unknown artists, representing traditional and modern forms of cultural expression. From model totem poles and bentwood boxes, to spoons, prints, and silver bracelets, these objects were created for different purposes––utilitarian, decorative, and ceremonial. What all of them share in common is the desire to preserve and perpetuate Northwest Coast cultural heritage and community.
McClung Museum of Natural History and Culture, 1327 Circle Park Dr on the UT campus, Knoxville, TN 37996. Hours: Monday-Saturday, 9AM-5PM, Sunday, 1-5PM. Information: 865-974-2144, http://mcclungmuseum.utk.edu
Arrowmont: "Of the Earth: Selections from Permanent Collection"
September 1, 2017 — December 9, 2017
Category: Exhibitions & visual art, Fine Crafts and Free event
Arrowmont School of Arts and Crafts invites you to attend our latest exhibit entitled Of the Earth: Selections from Arrowmont's Permanent Collection." The exhibit opens in the Sandra J. Blain Gallery September 1 and will run through December 9. Admission is free.
Works included in Of the Earth reflect a range of themes including nature, human emotion and the passage of time. Some of the pieces display overcoming struggle while others focus on hope. The earth tones and scorched surfaces found in many of the wood and ceramic pieces tie the show together. Arrowmont's permanent collection is made up of pieces that were made by current and past artists-in-residence, instructors, national and international artists - all of the pieces and their creators have ties to Arrowmont and are part of the school's history. This is the second large-scale curated exhibition utilizing works from Arrowmont's permanent collection that Kelly Hider, Arrowmont's Gallery Manager, has created, the first being Pieces of the Whole, in 2015.
The permanent collection includes nearly 1,000 works in a variety of arts and crafts media, including fiber, ceramics, wood, metals, and mixed media work. Made by the hands of current and past Arrowmont instructors, individuals from the settlement school's days, and past artists-in- residence, the works represent the arts and craft school's history, present, and future. "Arrowmont's permanent collection encompasses such a diverse range of work," Hider said. "It's an impressive collection."
The Sandra J. Blain Gallery is located at Arrowmont School of Arts and Crafts, 556 Parkway in Gatlinburg, and is open Monday-Friday 9:00 AM to 5:00 PM, and Saturday 10:00 AM – 4:00 PM. It is closed on Sunday. The gallery serves as an educational resource, enabling students and visitors to learn about various media and techniques.
East Tennessee History Center: Stories in Stitches
August 7, 2017 — January 2, 2018
Category: Exhibitions & visual art, Fine Crafts and History & heritage
Stories in Stitches: Quilts from the East Tennessee Historical Society's Permanent Collection
East Tennessee families treasure quilts made by their ancestors. Besides warming and decorating the bed, quilts also serve as reminders of important events—births, weddings, service to our country, the death of loved ones. Often, these memories are preserved in notes attached to the quilts or through stories handed down to younger generations. Sometimes notes are lost and memories fade, leaving families with a "mystery quilt." Did Grandma Jones or Granny Smith make this quilt? Or, was it Aunt Jane? When did she make it? Why did she choose this pattern? What caused this stain or that tear? These are some of the mysteries that quilt historians try to address through genealogical research and technical analysis.
From histories handed down to mysteries that remain, the new feature exhibition at the Museum of East Tennessee History provides visitors the opportunity to learn the "stories in stitches" from the quilts that have been entrusted to the East Tennessee Historical Society. Stories in Stitches features more than two dozen quilts with dates ranging from c. 1820 to 2001. The exhibition will be on display in the Rogers-Claussen Feature Gallery of the East Tennessee History Center from August 7, 2017 - January 2, 2018. Stories in Stitches is dedicated to Linda Claussen and Ginny Rogers for their years of service and support of the East Tennessee Historical Society's quilt collection.
When the East Tennessee Historical Society was founded in 1834, early collection efforts focused on books and manuscripts. In more recent decades, objects began to be added, and the idea of displaying them in a museum grew. The ETHS Permanent Collection acquired its first quilt in 1992, one year before the Museum of East Tennessee History opened on the first floor of the renovated Customs House. Now a part of the expanded East Tennessee History Center, the museum and its collection includes more than 100 quilts. The ETHS Permanent Collection focuses on quilts made or used in one of East Tennessee's 35 counties. An acquisitions committee reviews potential additions, evaluating the quilt's history, condition, and importance to the collection as a whole. Some quilts are displayed in the museum's signature exhibition, Voices of the Land: The People of East Tennessee. Others are cared for in climate-controlled storage and are brought out for special events or exhibitions like this one. The exhibition highlights more than two dozen quilts in a variety of fabrics, and patterns, and highlights some of the families who have made and cherished them. Patterns include everything from Rose of Sharon and "Knoxville Crazy Quilt" to a Civil War memory quilt and one pieced together out of clothing labels. The quilters range from John Sevier's wife Bonny Kate to the Smoky Mountain Quilters of Tennessee.
East Tennessee Historical Society, 601 S. Gay Street, Knoxville, TN 37902. Museum hours: M-F 9-4, Sa 10-4, Su 1-5. Information: 865-215-8824, www.easttnhistory.org
Nourish Knoxville's 2017 Market Square Farmers' Market
May 3, 2017 — November 18, 2017
Category: Culinary arts, Exhibitions & visual art, Festivals & special events, Fine Crafts, Free event, Kids & family and Science & nature
Wednesdays from 11:00 am – 2:00 pm
Saturdays from 9:00 am – 2:00 pm
at Market Square, Knoxville, TN 37902
The Market Square Farmers' Market is an open-air farmers' market located on Market Square in the heart of downtown Knoxville. Everything at the MSFM is grown or made by the vendor in the East Tennessee region. Products vary by the seasons and include produce, eggs, honey, herbs, pasture-raised meat, bread, baked goods, salsas, coffee, artisan crafts, and more. With interactive fountains, delicious local food, and surrounded by shops and restaurants, the MSFM is a perfect family destination. https://nourishknoxville.org/markets/market-square-farmers-market/