Calendar of Events
Monday, August 21, 2017
East Tennessee History Center: Stories in Stitches
August 7, 2017 — January 2, 2018
Category: Exhibitions & visual art, Fine Crafts and History & heritage
Stories in Stitches: Quilts from the East Tennessee Historical Society's Permanent Collection
East Tennessee families treasure quilts made by their ancestors. Besides warming and decorating the bed, quilts also serve as reminders of important events—births, weddings, service to our country, the death of loved ones. Often, these memories are preserved in notes attached to the quilts or through stories handed down to younger generations. Sometimes notes are lost and memories fade, leaving families with a "mystery quilt." Did Grandma Jones or Granny Smith make this quilt? Or, was it Aunt Jane? When did she make it? Why did she choose this pattern? What caused this stain or that tear? These are some of the mysteries that quilt historians try to address through genealogical research and technical analysis.
From histories handed down to mysteries that remain, the new feature exhibition at the Museum of East Tennessee History provides visitors the opportunity to learn the "stories in stitches" from the quilts that have been entrusted to the East Tennessee Historical Society. Stories in Stitches features more than two dozen quilts with dates ranging from c. 1820 to 2001. The exhibition will be on display in the Rogers-Claussen Feature Gallery of the East Tennessee History Center from August 7, 2017 - January 2, 2018. Stories in Stitches is dedicated to Linda Claussen and Ginny Rogers for their years of service and support of the East Tennessee Historical Society's quilt collection.
When the East Tennessee Historical Society was founded in 1834, early collection efforts focused on books and manuscripts. In more recent decades, objects began to be added, and the idea of displaying them in a museum grew. The ETHS Permanent Collection acquired its first quilt in 1992, one year before the Museum of East Tennessee History opened on the first floor of the renovated Customs House. Now a part of the expanded East Tennessee History Center, the museum and its collection includes more than 100 quilts. The ETHS Permanent Collection focuses on quilts made or used in one of East Tennessee's 35 counties. An acquisitions committee reviews potential additions, evaluating the quilt's history, condition, and importance to the collection as a whole. Some quilts are displayed in the museum's signature exhibition, Voices of the Land: The People of East Tennessee. Others are cared for in climate-controlled storage and are brought out for special events or exhibitions like this one. The exhibition highlights more than two dozen quilts in a variety of fabrics, and patterns, and highlights some of the families who have made and cherished them. Patterns include everything from Rose of Sharon and "Knoxville Crazy Quilt" to a Civil War memory quilt and one pieced together out of clothing labels. The quilters range from John Sevier's wife Bonny Kate to the Smoky Mountain Quilters of Tennessee.
East Tennessee Historical Society, 601 S. Gay Street, Knoxville, TN 37902. Museum hours: M-F 9-4, Sa 10-4, Su 1-5. Information: 865-215-8824, www.easttnhistory.org
Art Guild at Fairfield Glade: Judged and Juried Fine Arts Show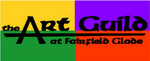 August 4, 2017 — August 30, 2017
Category: Exhibitions & visual art, Fine Crafts and Free event
The Art Guild at Fairfield Glade presents its 8th Annual Judged and Juried Fine Arts Show. This exciting show will begin with an Awards Reception on Friday, August 4th, starting at 5:00 p.m.
In addition to wall art including pieces in photography, watercolor, oil, acrylic, pastel, pen, ink, and pencil, artists proficient in clay, sculpture, jewelry, wood-working, and mixed-media will be displayed. This year's Juror-Judge is Joseph S. Mella, director of the Vanderbilt University Fine Arts Gallery. With almost 30 years of experience working in art museums, Joseph Mella manages, curates, and oversees the operations of the Vanderbilt Fine Arts Gallery and its collections within the College of Fine Arts and Science.
Art Guild at Fairfield Glade at the Plateau Creative Arts Center, 451 Lakeview Drive, Fairfield Glade, TN 38558. Hours: M-Sa 9-4. Information: 931-707-7249, www.artguildfairfieldglade.net
Dogwood Arts: First Friday: Bangles & Bubbles
August 4, 2017 — August 25, 2017
Category: Fine Crafts and Free event
Bangles & Bubbles! We are celebrating August's First Friday with a showcase of Knoxville's talented jewelry artists. View our month long exhibition and buy jewelry at our pop-up shop from 4:30-9:00 on August 4th!
Artists: Jessica Weiss, Wendy Seaward, Katie Dirnbauer, Karen Dwyer, Ryan-Ashley Anderson, Megan Craig, Kristine Taylor, Amanda Thompson, Alaina Smith, and Cameron Kite
Dogwood Arts, 123 W. Jackson Ave, Knoxville, TN 37902. Viewing hours: Monday- Friday 9-5. Information: 865-637-4561, www.dogwoodarts.com
The Emporium Center: Mary Saylor: A Whimsical Nature
August 4, 2017 — August 25, 2017
Category: Exhibitions & visual art, Fine Crafts and Free event
A reception will take place on Friday, August 4, from 5:00-9:00 PM as part of First Friday activities downtown to which the public is invited to meet the artists and view the artwork. Most of the works are for sale and may be purchased through the close of the exhibition.
In the display case - Mary Saylor has been fascinated by all sorts of artistic endeavors from her childhood and was raised by parents who themselves were creative individuals. She obtained a Bachelor of Fine Arts degree from Ohio University with a minor in Sculpture and taught art in middle school for some time in Ohio. Over the years, she has dabbled in various creative outlets including drawing, quilting, painting, woodcarving and clay and recently has focused on paper mâché sculptures. Saylor has a profound love and appreciation of all animals, great and small, and this devotion is clearly seen in her whimsical, humorous animal sculptures.
"Most of my recent work has been fashioned from paper mâché and mixed media using recycled materials," says Mary Saylor. "I have a whimsical bent and a deep love and appreciation for all animals, but especially for dogs and cats. I never know how each new sculpture may evolve as I begin. They always surprise me as they come to life with their own personalities and stories!" Saylor tries to inject humor and warmth into each piece and hopes that when each is finished, their happiness and joy radiate to all who see them. For more information, please visit www.thecraftydonkey.com.
On display at the Emporium Center, 100 S. Gay Street, in downtown Knoxville. Exhibition hours are Monday-Friday, 9:00 AM - 5:00 PM. Information: (865) 523-7543 or www.knoxalliance.com.
Arrowmont: Alchemy4: The Enamelist Society
July 29, 2017 — August 26, 2017
Category: Exhibitions & visual art, Fine Crafts and Free event
The Enamelist Society's mission is to educate and encourage artists and collectors about the beauty of enameled art. Combining heat from a kiln or torch with colored glass, the enamelist engages in a mystical, magical, and transformational alchemy of turning sand into glass on metal. The result is a reflective, vibrant color expressed in each artist's vision. Viewers are invited to gain inspiration from the exquisite craft and creativity showcased in the works in Alchemy4, the Enamelist Society's 16th International Juried Exhibition and 12th Juried Student Exhibition. More information about the Enamelist Society can be found at: www.enamelistsociety.org
The Alchemy4 International and Student Exhibitions collectively showcase 150 exquisite jewelry, objects, and mixed media sculptures and installations made by 98 artists. The exhibit is being featured in three venues – after the exhibit closes at Arrowmont School of Arts and Crafts it will then travel to the Ohio Craft Museum in Columbus, OH, and then to the Metal Museum in Memphis, TN.
Arrowmont School of Arts and Crafts, 556 Parkway, Gatlinburg, TN 37738. Gallery hours are Monday – Friday 9:00 am – 5:00 pm and Saturday and Sunday 10:00 am – 4:00 pm. Information: 865-436-5860, www.arrowmont.org
Farragut Town Hall: Work by Lace Tatter Carollyn Brown
July 5, 2017 — August 31, 2017
Category: Exhibitions & visual art, Fine Crafts and Free event
The Town of Farragut Arts Council presents tatter Carollyn Brown as the featured artist for July and August. The exhibit includes tatted doilies, ornaments and baby clothes, as well as handmade shuttles. Tatted lace is created by winding cotton thread around two tiny shuttles. Brown refers to tatting as "an old art that is not as lost as it used to be." She uses her blog, Carollyn's Tatting Blog, to share tips and patterns with tatters from around the world.

She enjoys calligraphy, sewing, weaving, quilt-making and cake decorating, but tatting is her favorite art form. She's from a creative family and has passed her creative pursuits on to her children. Her husband, Richard, helps her make beautiful shuttles that are also works of art.

Farragut Town Hall, 11408 Municipal Center Dr, Farragut, TN 37934. Hours: M-F 8 AM – 5 PM. Information: 865-966-7057, www.townoffarragut.org/museum