Calendar of Events
Saturday, October 12, 2019
A1LabArts: Membership Exhibition
October 12, 2019 — October 25, 2019
Category: Exhibitions & visual art and Free event
A1LabArts Member Exhibition October 2019
If you are not a member yet – don't fret! You can join now! A discounted membership cost of $30 will get you discounts to upcoming workshops and into the Membership Open Show in October! This fall is an OPEN SHOW! Bring us whatever you want!
OPENING: Saturday, October 12 6-10pm
Closing: Friday, October 25th 6-9pm
*more open times TBA
https://www.a1labarts.com/event/a1-membership-exhibition-2/
At 23 Emory Place, https://www.a1labarts.com/
4th Annual Tennessee Pirate Fest
October 12, 2019 — October 20, 2019
Category: Comedy, Culinary arts, Festivals & special events, Kids & family and Music
This costumed family-fun event will come to life for two weekends in mid-October at the Tennessee Medieval Faire site in Harriman--just 30 miles west of Turkey Creek. All are invited to escape to the fictional Caribbean town of Port Royale in the Tortugas, circa 1685.
"The Governor of Port Royale is celebrating his birthday, and all are invited--including pirates! Get ready to Get Yer Pirate On! and join in hours of fun," said Barrie Paulson, VP-Manager. Back by popular demand will be the Patron Costume Contest, where prizes will be awarded based on audience applause. Also returning will be the Pirate Gong Show, where patrons will be invited to share their talents to join a pirate crew. There will also be a Pirate School where landlubbers will learn to walk, talk, and sing like a pirate. Continuous professional pirate entertainment will include interactive comedy shows, live pirate music, costumed British and pirate street characters, Combat Croquet, beach games, photo ops, pirate displays, and original crafts. Food and hot and cold beverages, including beer, will be available for purchase.
The fourth annual Tennessee Pirate Fest will take place Saturdays and Sundays, October 12-13 and 19-20, from 11am-6pm ET--rain or shine. Ticket prices will be $16 for ages 13+, $8 for ages 5 to 12; and entry will be free for ages 4 and under. Field parking will be free, and tickets will be available for purchase at the gate with cash or credit. A small convenience fee will be added for the use of credit. Discounted motel rooms will be available for Pirate Fest fans at Baymont by Wyndham in Harriman by calling 865-882-5340. The festival will be held at 550 Fiske Road, Harriman, TN. For more information, please visit www.TNPirateFest.com and sign up for updates. Like and follow them on Facebook at https://www.facebook.com/Tennesseepiratefest/. Get Yer Pirate On!
Darkhorse Entertainment, LLC - Produces costumed interactive PG festivals
Great Smoky Mountains Heritage Center: Cades Cove Tours
Category: History & heritage and Science & nature
"BEHIND THE SCENES TOUR" WITH MIKE MELDRUM including a box lunch
Tour Cades Cove and discover parts of Cades Cove that most visitors never experience or hear about. Discover Cades Cove a short walking distance off the Cades Cove Loop Road and see and learn about:
*Gregory's Cave and the thriving business of Joe Gregory
*The story of the Primitive Baptist Church
*Managing wildlife in Cades Cove and the Deer Exclosure
* The CCC Camp
*The WW II Memorial Tree
*Cable's Lodge
...and much more

Departs at 9:30 am from the GSM Heritage Center, returns at approx 4:30 pm. Tour will be conducted rain or shine. Guests must be able to walk on uneven ground. $65 per person (Includes box lunch)
Great Smoky Mountains Heritage Center, Cades Cove Heritage Tours, PO Box 268, 123 Cromwell Drive, Townsend, TN 37882. Call 865-448-8838 - ask about our private "Behind the Scenes" tours for groups of 10 or more.
WDVX: Kidstuff Live with Buffalo Fiasco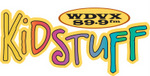 October 12, 2019
10-11 AM
Category: Free event, Kids & family and Music
The best way to give somebody a love and appreciation of their culture is to start 'em out when they're young. Hosted by Sean McCollough, Kidstuff on WDVX is a show full of great music that kids and kids at heart will love.
Tune in or join us. 89.9 | 102.9 | 93.9 | wdvx.com
Featuring Buffalo Fiasco - 10-11 AM
WDVX, 301 S. Gay Street, Knoxville, TN 37902. Information: 865-544-1029, www.wdvx.com
Flying Anvil Theatre: Hand to God
October 11, 2019 — October 27, 2019
Category: Theatre
HAND TO GOD by Robert Askins
After the death of his father, meek Jason finds an outlet for his anxiety at the Christian Puppet Ministry, in the devoutly religious, relatively quiet small town of Cypress, Texas. Jason's complicated relationships with the town pastor, the school bully, the girl next door, and—most especially—his mother are thrown into upheaval when Jason's puppet, Tyrone, takes on a shocking and dangerously irreverent personality all its own. HAND TO GOD explores the startlingly fragile nature of faith, morality, and the ties that bind us. Adult language.
"The fearsome critter [Tyrone], who takes possession of a troubled teenager's left arm in Robert Askins' darkly delightful play really inspires goose bumps as he unleashes a reign of terror…But he's also flat-out hilarious, spewing forth acid comedy that will turn those goose bumps into guffaws." —The New York Times. "Furiously funny…Askins' most impressive talent is his ability to make us laugh while juggling those big themes that make life so terrifying: death, depression, alcoholism, sexual guilt, emotional repression, religious hypocrisy and the eternal battle between your good puppet and your bad puppet." —Variety. "HAND TO GOD is so ridiculously raunchy, irreverent and funny it's bound to leave you sore from laughing. Ah, hurts so good." —New York Daily News.
Flying Anvil Theatre, 1300 Rocky Hill Road, Knoxville. Information: 865-357-1309, www.flyinganviltheatre.com
Tiger Lily Theatre: Lysistrata
October 11, 2019 — October 20, 2019
Category: Theatre
Zoo Knoxville: BOO! at the Zoo
October 10, 2019 — October 27, 2019
Category: Festivals & special events, Kids & family and Science & nature
Oct 10-13, 17-20, 24-27
5:30 p.m. – 8:30 p.m. each evening
BOO! at the Zoo presented by U.S. Cellular® is Knoxville's largest Halloween event featuring several nights of not-too-scary Halloween fun perfect for preschool and elementary-aged children. A Halloween tradition for 33 years, BOO! at the Zoo is a family event featuring trick-or-treating along the BOO! Trail, where little trick-or-treaters can fill their bag with goodies as they make their way through the zoo. Each night of BOO! at the Zoo will have a variety of entertainment.
Zoo Knoxville, 3500 Knoxville Zoo Drive, Knoxville, TN 37914. Open every day except Christmas. Information: 865-637-5331, www.zooknoxville.org/event/boo-at-the-zoo
Sevierville's History & Haunts
October 5, 2019 — October 26, 2019
Category: Festivals & special events, Free event and Kids & family
Sevierville's History & Haunts has creeped its way across every Saturday in October… and we couldn't be happier about it. Stroll the streets of historic downtown Sevierville each Saturday evening in October (5pm-9pm) to enjoy family-friendly frights and fall fun.
Each Saturday brings a new harvest of activities everyone will enjoy, from guided historic walking tours and costume contests to storytellers, live music and lawn games.
Terrified you'll miss the big game? Never fear. Downtown hotspot Graze Burgers will show the football games every weekend on their big screen TVs.
Admission to History & Haunts is free. There may be a nominal charge for some activities.
History & Haunts Takes Place On Bruce Street In Historic Downtown Sevierville, Tennessee. Use This GPS Address To Find Your Way To The Fun: 136 Bruce Street Sevierville, TN.
The District Gallery: Barry Spann: Vaulted Space
October 4, 2019 — November 16, 2019
Category: Exhibitions & visual art and Free event
Following his 2017 exhibit Twenty-One Still Lifes, Barry Spann returns with a compelling new body of work that playfully explores inner and outer spaces, and the realms in between. We invite you to experience a very special evening featuring a bold new installation singular to this exhibit.
Please join us for the opening reception on Friday, October 4 from 6-9 p.m. Meet the artist and enjoy live music & refreshments. The gallery will be transformed for a bold new installation singular to this exhibit. This is a dressy-casual First Friday event that is free & open to the public.
The District Gallery & Framery, 5113 Kingston Pike, Knoxville, TN 37919
(865) 200-4452 or www.TheDistrictGallery.com
Gallery Hours: Monday - Friday 10-5:30, Saturday 10-4
Art Guild at Fairfield Glade: Autumn Blaze Fall Art Show
October 4, 2019 — October 31, 2019
Category: Exhibitions & visual art, Fine Crafts and Free event
Enjoy the Opening Reception of the "Autumn Blaze" Fall Art Show on Friday, October 4, from 5:00 – 7:00 p.m. This special reception is scheduled on the regular monthly "Fun and Wine Friday" reception date. Participants can view the show entries and watch the presentation of awards to the winning artists. Hors d'oeuvres, wine, and other beverages will be available. The reception is free and open to the public. The "Autumn Blaze" Fall Art Show will be on display in the gallery through October 31.
Art Guild at Fairfield Glade at the Plateau Creative Arts Center, 451 Lakeview Drive, Fairfield Glade, TN 38558. Information: 931-707-7249, www.artguildfairfieldglade.net