Calendar of Events
Saturday, July 14, 2018
The Katharine Slowburn Experience: The Slowburn Chronicles of 1983
July 14, 2018 — July 15, 2018
Category: Dance
JUL 14, 7:00 PM & 10:00 PM
JUL 15, 2:00 PM
At C for Courtside, 513 Cooper St, Knoxville, Tennessee
In 1983, Katharine Slowburn quit her corporate life only to find a new-way-of-living with ... The Dirty Dozen, a rough-and-tumble crew of misfits, who like their drinks strong and their fights crude. Making their way through life selling stolen robot goods and experiencing the sensual pleasures, the Dirty Dozen show Slowburn that, in life, you're either "all in" or just a wastoid.
Featuring 13 new dances from Katharine Slowburn (14 in the Saturday 10pm show), you'll see robots, brawls, nunchucks, strange creatures, switchblade combs, and more! From below-the-belt to straight-to-the-heart, The Slowburn Chronicles of 1983 has something for everyone.
We'll see you there ... or else the Dirty Dozen will be looking for you! This is an age 18+ show. $15 GA Tickets/$25 VIP (limited quantity). Bring a cushion for up-close floor seating! BYOB 21+ (corking fee $3/person ... fee waived for advance sales tickets)
Each show has something different to offer:
Saturday @7: Enjoy a beer from our friends at Elkmont Exchange (while supplies last, must be 21+)
Saturday @10: Experience a special extra number that's especially sexy and strange!
Sunday @2: Make a day of it! Come to our 11am Make-Your-Own-80's-Headdress workshop, grab some brunch at Elkmont Exchange (wear your headdress!), and then come to the show!
Sunset Arts & Music Festival
July 14, 2018
5:00-10:00PM
Category: Culinary arts, Festivals & special events, Fundraisers and Music
2018 Sunset Arts & Music Festival in Knoxville's World's Fair Park.
Live music featuring JD McPherson, Blue Mother Tupelo, The Delights String Quartet
Ticket prices are $20 Adult 18 and up; $10 Teen age 13-17; $5 Youth age 12 and younger. Seniors age 60 on up can attend for free. Those age 15 and younger must have a paid adult present with them at the event.
Artist and craftsmen vendors
Gourmet Food trucks
Craft Beer
Gates open 5pm. Event ends 11pm.
No outside food or beverage.
Lawn chairs, blankets welcome. No tents please.
Pet friendly - all dogs must be on leash.
Celebrate original art and music with good food while raising money to support seniors in our communities. Senior Citizens Home Assistance Service (SCHAS) is a non-profit organization whose mission is to help seniors and the disabled be able to stay safely in their homes and provide respite for their families with kind, trained, in-home caregivers. SCHAS serves 20 counties throughout East Tennessee. SCHAS offers financial aid, known as sliding scale fee fund, to clients who need assistance but cannot afford the full fee nor are eligible for government assistance. Through grants and fundraisers, SCHAS can help those with the greatest need. Visit www.schas.org for more information.
https://www.visitknoxville.com/event/sunset-arts-and-music-festival/7748/
Ijams Nature Center: Movies Under the Stars
Category: Film, Kids & family and Science & nature
Movies fans rejoice, the Ijams Nature Center and Central Cinema Movie Series: Movies Under the Stars returns this summer! Doors for this event will open at 6pm. Movies will begin at dark. Food trucks and beer garden area will be open for this event. Feel free to bring your blankets and lawn chairs for this event. NO COOLERS AND NO OUTSIDE ALCOHOL PLEASE. Dogs are allowed at this event- they must be on a leash the entire time. Tickets are $8 per person or $25 for a family four pack of tickets.
For the ultimate movie buff, we are offering Summer Movie Passes for $35 per person and that will get you into all 5 movie nights this summer!! (Deadline to buy Summer passes is June 2!!)
July 14: Terror in the Woods- Cabin Fever and Severance
August 18: The Dark Crystal
September 1: Hook
October 5: Pet Sematary
Ijams Nature Center, 2915 Island Home Ave, Knoxville, TN 37920. Hours: Grounds and trails open during daylight hours. Call for Visitor Center hours. Information: 865-577-4717, www.ijams.org
WDVX: Kidstuff Live with Miss Lynn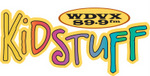 Category: Free event, Kids & family and Music
Miss Lynn joins us for Kidstuff Live. Grab your adult & come see the show. It's free! With host Sean McCollough.
The best way to give somebody a love and appreciation of their culture is to start 'em out when they're young. Hosted by Sean McCollough, Kidstuff on WDVX is a show full of great music that kids and kids at heart will love.
Farmer Jason kicks up his heels at Kidstuff
Farmer Jason kicks up his heels at Kidstuff
Most Saturdays the show is a mix of recorded and live music from inside the WDVX studio, but on the 2nd Saturday of the month, everyone is invited to join the audience at the Knoxville Visitor Center for our free live performance edition.
Four Leaf Peat
East Tennessee's Own Four Leaf Peat
Singalongs, percussion, movement, and general chaos is the name of the game! Past performers include Jim Gill, Farmer Jason, Lunch Money, Four Leaf Peat, Miss Lynn and many others.
WDVX, 301 S. Gay Street, Knoxville, TN 37902. Information: 865-544-1029, www.wdvx.com
R&M Tribute Entertainment with Elvis Presley and Jeff Foxworthy tributes
Join us for an evening of outstanding entertainment and talent on Saturday, July 14, 2018 at Hudsplace Event Center located at 2110 E. Broadway, Maryville, TN. Show will begin at 7:00 PM. Our show will bring back traditional country music , the King of Rock N' Roll – Elvis Presley and a comedy tribute to Jeff Foxworthy (voted #1 in the country for his tribute). Tickets are available at the door (an hour before the show) or by calling Missy at 865-684-6082. Reserved seats are $20 and General Admission are $15 (12-6 years old $7.00 and 5 and under are FREE). For more information: tribute.entertainment@yahoo.com.

Ronnie Miller is from Maryville, TN. He is a multi-award winning, professional Elvis Tribute Artist, entertainer, singer, and performer. Ronnie has won several local and national singing awards. He was inducted into National Elvis Organizations. He is also a Johnny Cash Tribute Artist as well as performs a wide variety of country & gospel entertainment.

Brandon E is from Athens, TN. Brandon grew up surrounded by all of the music Elvis loved so much; blues, country, rock and gospel. Brandon developed a love for Elvis and his music at an early age. He has performed Elvis tributes in many venues all over the Southeast. Brandon has won many awards and accolades in his many years as an Elvis Tribute Artist. He most recently (2017) placed in the Smoky Mountain Elvis contest held in Pigeon Forge, TN. Brandon will be performing the '70's stage concert era.

Jamie Simpson is from Townsend, TN. He is known as the number 1 Jeff Foxworthy impersonator in the world. He has met and performed with the real Jeff Foxworthy and currently travels the country doing a tribute to him. He has performed at theaters in and around Pigeon Forge for decades.

Makenna Harmon is from Seymour, TN. She has a passion for traditional country music. She performs tributes to Loretta Lynn and Patsy Cline. She was named the 2018 Entertainer of the Year and Vocalist of the Year in traditional country music in the North American Country Music Association International.

Donna Kestler is from Maryville, TN. She has been performing for over 30 years. She performs her Tammy Wynette tribute as well as a wide variety of country artists. She was the first female in East Tennessee that brought the popular karaoke to the area. Since then she has developed her tributes to country music and performed in the East TN and surrounding areas.
Knoxville Writers Guild: How to get Noticed on the Net
July 14, 2018
10:00am-12:00noon
Category: Lectures & discussions
July 14, 2018, 10:00 am - 12:00 pm at Central United Methodist Church, 201 3rd Avenue, Knoxville, Tennessee, 37917, United States.
Search Engine Optimization (SEO), paid ads, blogging & more. Chances are, you've heard of tons of ways to get your web page noticed on the web. In this workshop, you will learn highlights of many of the most common techniques. We'll spend in depth time with SEO, blogging and video — exploring the best ways to get the most impact for your time invested. Learn the strongest ways to use your keywords, what Google looks for, and tips for Facebook business pages.
Billy Price is a web developer, designer and writer living in Knoxville, TN. For the past 25 years, he has served creative/marketing teams, music studios, publishers, colleges and companies by helping them learn to reach end-users better. Because of the way industry has evolved, his original focus in technical writing grew quickly to include marketing and communication as a tool that helps sellers better reach their "thirsty crowd." Billy is the team leader at Billy Fann Creative, a creative digital marketing company serving clients worldwide. He has spent a lot of time figuring out the best way to get your web work noticed.
Register at KnoxvilleWritersGuild. org.
Knoxville Writers' Guild: Meetings take place at Central United Methodist Church's Fellowship Hall, 201 E. Third Avenue, Knoxville, TN 37917. Information: www.KnoxvilleWritersGuild.org
Knoxville Irish Society: Second Saturday Gathering
Category: Free event
Rub elbows with fellow Irish folk at our regular social gathering, the KIS Second Saturday

Join us for our regular eat-&-greet at 3131 Morris Ave. from 3:00 - 5:00 on the second Saturday of every month. The next one is July 14th, so please mark your calendar. We'll have traditional Irish tea, trad & sean-nós music, and good conversation & friendship. Bring a finger food to share. If you haven't been to a KIS event yet, or if you don't know many people and would like to get connected, this is a great way to get started and introduce yourself. We're looking forward to seeing you again. Céad míle fáilte! A hundred thousand welcomes!
Fountain City Art Center: FCAC Open Photography Exhibit

July 13, 2018 — August 9, 2018
Category: Exhibitions & visual art, Fine Crafts and Free event
Reception: July 13, 6:30 – 8:00 PM - Free and open to the public. Juried by Clay Thurston and featuring photography in categories such as Wildlife, Human Interest, Landscape, Still Life, Architecture, and Digitally Altered.
Exhibit viewing hours: Hours: Tu & Th 9-5, W & F 10-5, 2nd-4th Sa 10-1. Fountain City Art Center, 213 Hotel Ave, Knoxville, TN 37918. Information: 865-357-2787, www.fountaincityartcenter.com
Knoxville Children's Theatre: Disney's Aladdin Jr
July 13, 2018 — July 29, 2018
Category: Kids & family, Music and Theatre
Featuring the hit songs, "A Whole New World" and "Friend Like Me," Disney's Aladdin Jr will capture the hearts of audiences young and old.
Aladdin and his three friends are down on their luck until Aladdin discovers a magic lamp, which contains a genie who has the power to grant three wishes. Wanting to earn the respect of Princess Jasmine, Aladdin embarks on an adventure that tests his will and moral character.
The live stage play will be performed July 13 through 29:
Fri., July 13 at 7 PM, Sat., July 14 at 1 PM & 5 PM, Sun., July 15 at 3 PM
Thurs., July 19 at 7 PM, Fri., July 20 at 7 PM, Sat., July 21 at 1 PM & 5 PM, Sun., July 22 at 3 PM & 7 PM
Thurs., July 26 at 7 PM, Fri., July 27 at 7 PM, Sat., July 28 at 1 PM & 5 PM, Sun., July 29 at 3 PM & 7 PM
The play is performed by 23 talented young actors, from ages 10 to 17. Joseph Coram will play the title role, and Celeste Paultre will perform as Princess Jasmine. Audrey Jones will take on the role of The Genie, and Noah Seaman will play Jafar.

Derrick Washington, Jr. will direct the production, after serving for the past year as a directing intern. Recent West High graduates Wheeler Moon and Bethany Moon will design lights and costumes, respectively, and high-schoolers Derrick Washington, Kennis Van Dyke, and others will perform the play's technical duties. Bearden sophomore Abby Ann Ramsey will be the play's stage manager.
Knoxville Children's Theatre, 109 E. Churchwell Avenue, Knoxville, TN 37917. Information: 865-208-3677, www.knoxvillechildrenstheatre.com
Knoxville Walking Tours
July 13, 2018 — July 15, 2018
Category: Festivals & special events and History & heritage
KNOXVILLE WALKING TOURS – LITERARY HERITAGE - JULY 13, 2018 10:30 AM – 12:00
Home of Cormac McCarthy, Nikki Giovanni, James Agee, and more. You'll visit the scenes that inspired them and walk in the footsteps of their characters. There's so much to tell that it's hard to squeeze it into 90 minutes. We'll give you an overview or tell us what you like and we'll concentrate on what you're most interested in. From George Washington Harris and Frances Hodgson Burnett to Cormac McCarthy and Nikki Giovanni, poetry, mysteries, bestsellers, and great movies. There's plenty to choose from. Want to see all the real locations in Cormac McCarthy's Suttree? Well, that would take all day, but we can give you some highlights. Just let us know. Meet on the porch of the East Tennessee History Center, 601 S. Gay Street.

KNOXVILLE WALKING TOURS – SHADOW SIDE - JULY 13, 2018 8:00 PM – 9:30 PM
Hanged killers, tragic fires, reanimated corpses, cold-blooded murder, and sweet revenge. It all happened in Knoxville and restless spirits still haunt the city streets. If you enjoy a chill in the evening, walk with us to Knoxville's shadow side. The city's history echoes with the sound of gunfire and restless spirits are rumored to walk the streets. Visit their haunts and shiver as you listen to local legends of scary spooks and supernatural phenomena. Meet in front of The Phoenix Pharmacy and Fountain, 418 S. Gay St.
KNOXVILLE WALKING TOURS – THE CIVIL WAR IN KNOXVILLE - JULY 14, 2018 10:30 AM – 12:00 PM
It's been over 150 years since the battle of Knoxville, one of the most sharply divided cities during the civil war. Occupied by both sides with recruiting offices set up on Gay Street on the same day, Knoxville was home to spies, street fights, and family feuds that outlasted the war. Visit the downtown sites and then get an overview of the battles and fortifications from the observation deck of the Sunsphere. Meet on the porch of the East Tennessee History Center, 601 S. Gay Street.

KNOXVILLE WALKING TOURS – THE EARLY YEARS - JULY 14, 2018 5:00 PM – 6:30 PM
Step back over two centuries and visit Knoxville's founders as you listen to the stories of the settlement of White's Fort and establishment of the capital of the Southwest Territory at the headwaters of the Tennessee. Meet on the porch of the East Tennessee History Center, 601 S. Gay Street.

KNOXVILLE WALKING TOURS – KNOXVILLE'S MUSICAL HISTORY - JULY 15, 2018 1:30 PM – 3:00 PM
Knoxville's story has always been set to music, from the time when the poetic rhythms of the native Cherokee tribes still echoed in the hills and the ballads of the Scots-Irish settlers were sung around campfires on the riverbanks. Immigrants from all over the world brought new instruments and tunes to enliven the song and East Tennessee became known as a home to musicians of every genre, whether classical, jazz, R&B, rock-n-roll, Americana, or the avant-garde sounds of ska, techno, and whatever's unveiled at this year's Big Ears Festival. Meet in the Knoxville Visitor Center, 301 S. Gay Street.
Tours last approximately 90 minutes. For the above tours: Adults: $15. Children 6-12: $10 (Group rate available). For more information or to book your tour, please visit http://knoxvillewalkingtours.com/. *Proceeds from these tours help to support the Knoxville History Project.
Flying Anvil Theatre: A Perfect Match
July 13, 2018 — July 15, 2018
Category: Theatre
Broadway, Opera and online dating come together in A Perfect Match at Flying Anvil Theatre, July 13 and 15. The show is a musical memoir of the love story and performing highlights of Knoxville native, Laura Beth Wells and her husband, David Crawford.
Sparks flew when the two met online. He was singing at the Metropolitan Opera, she was rehearsing Spiderman – Turn Off the Dark on Broadway. Despite their musical differences, they fell in love, married and produced Lily, their 6 year old star-in-the-making. Now they're combining their talents to give audiences a behind-the-scenes peek into their lives as performers, partners and parents.
Both have had stellar careers. David has sung with the Metropolitan Opera in NYC for over 10 years, appearing on stage with opera luminaries such as Placido Domingo, Byrn Terfel and Anna Netrebko. He'll be making his Knoxville Opera debut next February in Lucia di Lammermoor.
Laura Beth performed locally at Halls Middle School, Oak Ridge Playhouse and the Clarence Brown Theatre before moving to New York. A definite highlight of her career was working with director Julie Taymor and watching Bono and Edge of U2 writing songs for Spiderman. The cabaret-style show features music from Mozart to Sondheim and more.
This is the first time the couple has worked together, which both call "a challenge."
"Dave and I have very different approaches when it comes to rehearsing," Laura Beth says, "mostly because of how our respective disciplines approach the rehearsal process. Musical theatre is very much 'everyone shows up on the first day of rehearsal and learns/creates together' and opera is more 'everyone shows up on the first day knowing their roles cold and then are given staging'. "
A Perfect Match: The Metropolitan Opera meets Broadway runs for two performances only – Friday, July 13 at 7:30 and Sunday, July 15 at 2:00 pm at Flying Anvil Theatre, 1300 Rocky Hill Rd. Tickets are $20 and may be purchased online at flyinganviltheatre.com, or call 863-357-1309 to make reservations.
Flying Anvil Theatre, 1300 Rocky Hill Road, Knoxville. Information: 865-357-1309, www.flyinganviltheatre.com
Rala: Pop-Up Art Show with Kevin Bradly
July 13, 2018 — July 14, 2018
Category: Exhibitions & visual art and Free event
Fri 7/13 from 5:00 to 9:00+ and Sat 7/14 from 11:00 to 3:00
He's Back!!! Kevin Bradley is back home in East Tennessee after five years making art on the West Coast. He'll be exhibiting some amazing new work as well as old favorites like Evel Kneival and Cas Walker at two locations on Jackson Ave.
Prints, books, and cards at Rala - 112 W Jackson Ave
Large scale framed art at Old City Contemporary Gallery - 130 W Jackson
You don't want to miss this very special event!
Information: 865-525-7888, https://shoprala.com/, Instagram: @ShopRala