Calendar of Events
Saturday, June 23, 2018
Tennessee Stage Company: Shakesology at the Downtown Library
June 23, 2018 — June 30, 2018
2 PM
Category: Free event, Kids & family, Literature & readings and Theatre
Would you like to learn more about Shakespeare's plays? When they were written? Why they were written? Quirky facts about their stage history and what cool films have been made from the plays? If so, Shakesology is for you!
Shakesology is a 2 ½ hour special event to learn the history and context of Shakespeare's work before viewing the play. Led by Shakespeare on the Square dramaturg, Dr. Jennifer Horn, each session showcases Shakespeare's story and influences, as well as some of the choices other productions have made and the background behind the two selections for this year's Shakespeare on the Square productions. Members of the Stage Company artistic team will also discuss the current productions and their creative process.
In 2018, we're highlighting Cymbeline (Saturday, June 23rd) and Henry IV, Part 1 (Saturday, June 30th). Please join us at the Lawson McGhee Library downtown at 2:00 pm for these engrossing and thought-provoking programs.
"One of the key elements of Shakespeare's genius is that his plays are so open to different interpretations" said Horn. "Even if you've seen one production, you definitely haven't seen them all." Come find out about the crazy choices that can and have been made in productions of the plays, prepare to amaze your friends with the trivia you learn, and discover secrets of the upcoming productions.
Tennessee Stage Company: 865-546-4280, www.tennesseestage.com
Knox Pridefest 2018
Category: Festivals & special events, Free event, History & heritage and Kids & family
Knox Pridefest 2018 is an open (and free) celebration of music, celebration and speakers focused on promoting Equality and Inclusion of ALL people. This year it will be held at the same venue as last year, the Mary Costa lawn next to Knoxville Coliseum in downtown Knoxville on June 23rd, 2018 from 12pm-9pm. The Pride parade is at 11 am.
Throughout the afternoon and evening, vendors will have the opportunity to display information about their organizations and/or business, sell or handout items of interest and interact with our community to promote inclusion and equality for the LGBTQ citizens of Knoxville and surrounding areas.
http://knoxpride.com/event-list/2018/6/23/knox-pridefest-2018
Bijou Theatre: An Evening with Dennis Miller
Category: Comedy
SHOWS WILL BE FILMED FOR COMEDY SPECIAL RELEASE
SATURDAY, JUNE 23 • 7PM & 9:30PM • 2 SHOWS!
In just a few weeks comedian Dennis Miller is coming to Knoxville! The SNL alum has five Emmy and three Writers Guild of America awards to his name and has a solid show in store for his fans. "I've been preparing a special, my ninth comedy special, that I'm filming in June. Over the last few months I've pounded it into good shape," he says. When it comes to covering politics in his set, Miller says most of the show can be enjoyed by everyone — no matter which side you're on. Don't miss it!
Bijou Theatre, 803 S. Gay Street, Knoxville, TN 37902. Information/tickets: 865-522-0832, www.knoxbijou.com, www.ticketmaster.com
Knoxville Museum of Art's Art House: Painting with a Purpose with Freddy Paske
Category: Exhibitions & visual art, Festivals & special events and Fundraisers
MUSIC. FOOD. ART. PURPOSE.
Painting with a Purpose, an Art House event, will feature London-based wildlife and animal painter Freddy Paske whose work has been recognized by the David Shepherd Wildlife Foundation for bringing attention to the difficulties facing what remains of the world's wildlife population. Elephant population, for example, was 1.3 million in 1979 and now only 450,000 remain today. Paske creates large scale works using a combat boot as a brush to drive home a sobering point - the rangers who are tasked with protecting elephants and other animals facing extinction in Africa often do not have enough resources to have proper footwear to trek through the bush.
Prints of these works along with watercolor originals will be available for purchase.
Admission includes dinner catered by Cazzy's Corner Grill, drinks, and entertainment; must be 21 and up.
Admission - Art House Member $75
Admission - Non Art House Member - $125
Admission – Individual (1 guest) PLUS a year-long Membership to Art House - $200
Admission - Couple (2 guests) PLUS a year-long Membership to Art House -$300
WHAT IS ART HOUSE?
A membership group at the Knoxville Museum of Art for 50 and under that aims to connect a new generation to the museum by providing exclusive (and fun) opportunities to learn through art. Previous events include tours of artist studios and private collections, behind-the-scene experience at the museum, and a secret location holiday party. Email cpare@knoxart.org to learn more.
Knoxville Museum of Art, 1050 World's Fair Park Dr SW, Knoxville, Tennessee 37916. https://www.facebook.com/events/127785851427133/
KIN and Bridge Refugee Services: World Refugee Day Celebration
Category: Culinary arts, Exhibitions & visual art, Festivals & special events, Free event and Kids & family
The United Nations' (UN) World Refugee Day is observed globally every year to honor the courage, strength and determination of women, men and children who are forced to flee their homeland under threat of persecution, conflict and violence.
KIN and Bridge Refugee Services have partnered for the third year in a row to host a World Refugee Day Community Festival to welcome and celebrate our international neighbors and friends.

PERFORMANCES: Multi-cultural Music, Dance, and more.
CHILDREN'S ACTIVITIES: Crafts, Face Painting, Boy Scouts of America Archery, Soccer, Knoxville Zoo and many more activities and attractions.
FOOD: Multi-ethnic food: African, American, Asian, Hispanic/Latino, Middle Eastern, and more.
ARTISANS: Refugees will have booths to share their various talents in arts and crafts. Many items available for purchase.
RESOURCES: Dozens of organizations will have booths to share information, resources and connect with refugees and volunteers who advocate for and serve among our international neighbors.
Where: On the grounds of Bridge Refugee Services /St. Luke's UMC, 3839 Buffat Mill Rd,
Cost: FREE...Bring your chairs/blankets, easy-up canopies for additional shade and join us on the lawn for music, crafts, food and FUN! https://www.facebook.com/events/2082496238690944/
James White's Fort: Knoxville Homecoming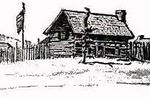 June 23, 2018
10 AM - 4 PM
Category: Festivals & special events, Free event, History & heritage and Kids & family
Step back in time and experience Knoxville's first home as it was in the 1790s. There will be lifestyle demonstrations by re-enactors from various time periods, plus a blacksmithing demonstration all day. The day will also include an author's area for local publications and other historically oriented crafts.
The Fort will partner with Women's Basketball Hall of Fame, Blount Mansion, and Legacy Parks for this event. Educational for all ages and free to the public. Donations gladly accepted.
James White's Fort, 205 E. Hill Ave, Knoxville, TN 37915. Information: 865-525-6514, www.jameswhitefort.org
The Center for Creative Minds: Pixel Abstracts: Series BB
June 22, 2018 — June 24, 2018
Category: Exhibitions & visual art and Free event
The Center for Creative Minds at A1LabArts is pleased to present an exhibition of new works by Knoxville artist Gunnar Quist. "Pixel Abstracts: Series BB" will run from June 22, 2018 - June 24, 2018, with an opening reception on Friday, June 22nd from 6-9 pm.
"Pixel Abstracts: Series BB" expands upon Gunnar Quist's unique style of photo-realistic hand-painted pixel art, taking it into the realm of abstraction and marking the beginning of a new phase of his career.
The exhibition will run through June 24, 2018. All works of art will be for sale, and a limited number of prints will be available. The artist will be present at the opening reception Friday, June 22nd from 6-9pm.
Additional exhibition hours are Saturday and Sunday, from noon to 6 pm each day.
A1LabArts @ the Center for Creative Minds, 23 Emory Place, Knoxville, TN 37917. Information: www.a1labarts.org. For additional information, please contact Sara Blair McNally at sarablairmcnally@gmail.com.
Knoxville Walking Tours
June 22, 2018 — June 23, 2018
Category: Festivals & special events and History & heritage
KNOXVILLE WALKING TOURS – SHADOW SIDE 2 - JUNE 22, 2018 8:00 PM – 9:30 PM
The lively entertainment section now known as the Old City wasn't always so friendly. The neighborhood has a history of dark times and dark deeds, and the remnants aren't just in the architecture. Formerly known as the Bowery, the district was home to saloons, dance halls, pool rooms, and bars, where famous gunmen, thieves, ladies of the evening, and troublemakers of all kinds bumped elbows with naïve travelers and honest working folk. Life here was violent—and often short. Meet in front of The Phoenix Pharmacy and Fountain, 418 S. Gay Street.

KNOXVILLE WALKING TOURS – LITERARY HERITAGE - JUNE 23, 2018 10:30 AM – 12:00 PM
Home of Cormac McCarthy, Nikki Giovanni, James Agee, and more. You'll visit the scenes that inspired them and walk in the footsteps of their characters. There's so much to tell that it's hard to squeeze it into 90 minutes. We'll give you an overview or tell us what you like and we'll concentrate on what you're most interested in. From George Washington Harris and Frances Hodgson Burnett to Cormac McCarthy and Nikki Giovanni, poetry, mysteries, bestsellers, and great movies. There's plenty to choose from. Want to see all the real locations in Cormac McCarthy's Suttree? Well, that would take all day, but we can give you some highlights. Just let us know. Meet on the porch of the East Tennessee History Center, 601 S. Gay Street.
KNOXVILLE WALKING TOURS – GUNSLINGERS - JUNE 23, 2018 5:00 PM – 6:30 PM
Knoxville's history is colorful and the predominant hue is blood red. Take a walk on the wild side, from the Old City to Gay Street, down to the river and beyond. The now peaceful streets were once the scene of violence and mayhem of all descriptions—family feuds, duels, lynchings, and riots. Telling all the stories might take years, so this tour varies its route and our guide is always finding fresh tales to share. Meet in the Knoxville Visitor Center, 301 S. Gay Street.
Tours last approximately 90 minutes. For the above tours: Adults: $15. Children 6-12: $10 (Group rate available). For more information or to book your tour, please visit http://knoxvillewalkingtours.com/. *Proceeds from these tours help to support the Knoxville History Project.
8th Annual Nief-Norf Summer Festival
June 11, 2018 — June 25, 2018
Category: Festivals & special events and Music
The Nief-Norf Summer Festival (nnSF) is an interdisciplinary summer music festival, bringing together dozens of performers, composers, and scholars to collaborate on the performance, creation, and discussion of contemporary music. The nnSF offers an immersive think-tank environment in the state-of-the-art Natalie L. Haslam Music Center at the University of Tennessee, Knoxville, and presents 7-8 concerts of modern music, aiming to encourage both appreciation for live music and support for contemporary art.
The Nief-Norf Summer Festival features full-time, faculty-led workshops in performance, composition, and music technology lasting the duration of the festival. In addition, each year the nnSF hosts two international calls for projects: the first, a Call for Papers for a weekend-long Research Summit on contemporary music, and the second, a Call for Scores competition for composers. These projects bring some of our generation's brightest and most promising composers and scholars to the festival for interaction with the fellows, the faculty, and the Knoxville community.
For more information, go to http://www.niefnorf.org/festival-overview.
Fountain City Art Center: FCAC 13th Annual Open Show

June 8, 2018 — July 5, 2018
Category: Exhibitions & visual art, Fine Crafts and Free event
Reception: June 8, 6:30 – 8:00 PM - Free and open to the public.
Exhibit viewing hours: Hours: Tu & Th 9-5, W & F 10-5, 2nd-4th Sa 10-1. Fountain City Art Center, 213 Hotel Ave, Knoxville, TN 37918. Information: 865-357-2787, www.fountaincityartcenter.com
Tennessee Valley Players: Into the Woods
June 8, 2018 — June 24, 2018
Music and Lyrics by STEPHEN SONDHEIM, Book by JAMES LAPINE
Originally Directed on Broadway by James Lapine
Orchestrations by Jonathan Tunick

Carousel Theatre, University of Tennessee, 1714 Andy Holt Avenue
(adjacent to the Clarence Brown Theatre)

June 8, 9, 10 - June 15, 16, 17 - June 21, 22, 23, 24
Friday's, Saturday's and Thursday - evening performances at 7:30 p.m. and Sunday matinees at 3:00 p.m.

The Tennessee Valley Players proudly present "Into the Woods." James Lapine and Stephen Sondheim take everyone's favorite storybook characters and bring them together for a timeless, yet relevant, classic. The Tony Award-winning book and score are both enchanting and touching. The Brothers Grimm hit the stage with an epic fairytale about wishes, family, and the choices we make. This musical is presented "in the Round" at the Carousel Theatre next to the Clarence Brown Theatre on the University of Tennessee campus. The Tennessee Valley Players is pleased to produce the show in collaboration with the University of Tennessee School of Music. Admission is $20 a ticket and for children 12 years old and younger, $10 a ticket. Tickets can be purchased on the Tennessee Valley Players' website with a credit card ahead of time. Tickets may also be purchased at the box office starting 1 hour prior to each show with cash, check, or credit card. Festival seating.

Tennessee Valley Players: 865-584-8173, www.tennesseevalleyplayers.org
Knoxville Children's Theatre: Tales Of A 4th-Grade Nothing
June 8, 2018 — June 24, 2018
Category: Kids & family and Theatre
Everyone makes such a fuss about Fudge, Peter Hatcher's little brother. Everyone in New York City! But Fudge goes too far when he swallows Peter's turtle! Based on the popular title by perennial favorite Judy Blume, Tales of a Fourth Grade Nothing is a humorous look at family life and the troubles that can only be caused by a younger sibling.
The live stage play will be performed June 8 through 24:
Fri., June 8 at 7 PM, Sat., June 9 at 1 PM & 5 PM, Sun., June 10 at 3 PM
Thurs., June 14 at 7 PM, Fri., June 15 at 7 PM, Sat., June 16 at 1 PM & 5 PM, Sun., June 17 at 3 PM,
Thurs., June 21 at 7 PM, Fri., June 22 at 7 PM, Sat., June 23 at 1 PM & 5 PM, Sun., June 24 at 3 PM.
The play is performed by 17 talented young actors, from ages 6 to 14. Zack Allen KCT's Producing Director, will direct the play. High-school students Konnor Stump (Bearden High), Wheeler Moon (West High), Laura Snyder (Oak Ridge), Charlotte Stark and others will perform the plays technical duties. Sophomore Draven Copeland will be the play's stage manager. KCT is east Tennessee's leading producer of plays for children.
Knoxville Children's Theatre, 109 E. Churchwell Avenue, Knoxville, TN 37917. Information: 865-208-3677, www.knoxvillechildrenstheatre.com