Calendar of Events
Friday, September 14, 2018
East Tennessee Historical Society: A Home for Our Past: The Museum of East Tennessee History at 25
September 14, 2018 — March 31, 2019
Category: Exhibitions, visual art and History, heritage
A Home for Our Past: The Museum of East Tennessee History at 25 a new feature exhibition at the Museum of East Tennessee History
The public opening of the exhibition begins at 4:30 p.m. on Friday, September 14, with light refreshments and ribbon cutting and remarks at 5:15.
When the Museum of East Tennessee History opened in 1993, it fulfilled a shared vision to preserve and interpret the region's rich history for the benefit of all, a vision first articulated a century and a half earlier. On May 5, 1834, Dr. J.G.M. Ramsey addressed a group of a historically-minded citizens gathered for the first annual meeting of the East Tennessee Historical and Antiquarian Society. Concerned that many of the participants in Tennessee's early history were passing away and with them their memories, Ramsey issued a call to action: "Let us hasten to redeem the time that is lost."
Today, 184 years later, Dr. J.G.M. Ramsey's plea to save Tennessee's past continues to reverberate in the galleries of the East Tennessee Historical Society's museum, a permanent home for our region's cherished stories, traditions, and artifacts. The East Tennessee Historical Society actively began collecting artifacts and producing award-winning interpretive exhibits in 1993, which has now grown to more than 16,000 artifacts housed within the East Tennessee History Center. In this special exhibition, ETHS is excited to highlight East Tennessee's unique history through a variety of artifacts, with at least one exhibited item from each year of ETHS's active 25 years of collections, most of which are rarely or never on display.
The exhibition includes more than twenty-five artifacts and numerous photographs and illustrations representative of East Tennessee's unique history. Some of the items include an 1883 Springfield penny-farthing, the first apparatus to be called a "bicycle"; an 1822 artificial hand that belonged to a teacher from Union County; a silver coffee and tea service from the East Tennessee and Virginia Railroad presented to Superintendent James Baker Hoxsie upon his retirement in 1866; a coverlet woven by one of the famed Walker sisters of Greenbrier; a shirt stating "Healing in the name of Jesus. Take up serpents, Acts 2:38" worn during religious services practicing snake handling in Cocke County; an 1817 bead necklace belonging to Eliza Sevier, the wife of Templin Ross and the granddaughter of both John Sevier and Cherokee Chief Oconostota; a 1907 baseball uniform from a coal town's team in Marion County; and the distinctive backdrop and wall clock from WBIR-TV variety program "The Cas Walker Farm & Home Show." The exhibit also features a brilliant display of East Tennessee furniture, textiles, folk art, instruments, and vintage toys.
Also on display are more than two dozen featured artifacts from the Tennessee State Museum. A new Tennessee State Museum will open on the grounds of the Bicentennial Capital Mall in Nashville on October 4. ETHS is honored to display select East Tennessee artifacts from their collection, highlighting the programmatic ties between the two institution as well as the museums' shared mission to preserve Tennessee's rich history. Selected items include a 1792 map of the State of Franklin, an 1831 copy of the Cherokee Phoenix & Indians Advocate newspaper, and a 19th century flintlock muzzle loading rifle made by Baxter Bean of Washington County.
East Tennessee Historical Society, 601 S. Gay Street, Knoxville, TN 37902. Museum hours: M-F 9-4, Sa 10-4, Su 1-5. Information: 865-215-8824, www.easttnhistory.org
Knox County Public Library: Movies on Market Square
September 14, 2018 — October 19, 2018
Category: Film, Free event and Kids, family
Friday nights from September 14 through October 19, Market Square will transform into an outdoor movie theater where folks bring their chairs, blankets, and picnic baskets. Free!
September 14 - Space Jam (1996, PG)
September 21 - Clueless (1995, PG-13)
September 28 - Monsters, Inc. (2001, G)
October 5 - Jumanji (1995, PG)
October 12 - Black Panther (2018, PG-13)
October 19 - Coco (2017, PG)
https://www.knoxlib.org/calendar-programs/programs-and-partnerships/movies-market-square
Knox County Public Library: Friends Books Sales
September 14, 2018 — September 22, 2018
10 AM - 5 PM
Category: Free event and Literature, reading, writing
Farragut & Powell Branch Libraries
Join the Friends of the Knox County Public Library for branch book sales, September 14 - 16 at Farragut Branch Library and September 21 - 22 at Powell Branch Library. Find your favorite books and more, with all proceeds benefiting the Knox County Public Library.
James Agee Conference at Pellissippi State
September 14, 2018 — September 15, 2018
Category: Exhibitions, visual art, Literature, reading, writing and Music
James Agee Conference at Pellissippi State celebrates Appalachian arts, literature
An annual literature conference with an Appalachian focus has branched out this year to include music and photography. The third annual James Agee Conference for Literature and Arts will be held Sept. 14 and 15 at Pellissippi State Community College's Hardin Valley Campus, 10915 Hardin Valley Road.
The free event, which is open to the public, will include master classes led by musician Kelle Jolly, photographer Roger May and novelist Jon Sealy as well as a keynote presentation by author Robert Gipe. Their presentations, all on Sept. 14, will be held in the Goins Auditorium.
"In the past, we've had poets and writers of fiction and nonfiction," explained conference founder Charles Dodd White, an associate professor of English at Pellissippi State. "This year we are going beyond the literary by adding music and photography, which will expand on our arts theme."
White, who will be inducted into the East Tennessee Writers Hall of Fame in October, created the conference largely to give Pellissippi State students an opportunity to attend a scholarly conference while also celebrating the literature, culture and arts of Appalachia.
"Agee is such a particular touchstone for this area," said White, who is teaching Pellissippi State's first Appalachian literature course this fall. "The Conference gives us an opportunity to honor his influence while also exploring the hometown portrayal of Appalachia through writing and art."
White is committed to keeping the conference free so that it remains accessible to students, and he encourages music and photography students to participate as well.
"This lets students get their feet wet and see what a professional literary festival/conference is like," White said. "These are also really good master classes, which is an excellent opportunity for other aspiring writers and artists."
Union Avenue Books will be on hand with a selection of Appalachian literature, and conference participants will have opportunities between the interactive workshops to mingle with the presenters and get their works signed.
For the full schedule and more information on this year's presenters, visit www.pstcc.edu/events/ageeconference.
Museum of Appalachia: Days of the Pioneer Antique Show & Sale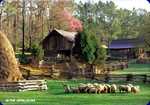 September 14, 2018 — September 15, 2018
Category: Festivals, special events, History, heritage, Kids, family, Music and Science, nature
Friday, September 14, 9:00am - 5:00pm
Saturday, September 15, 9:00am - 3:00pm
Antique Show & Sale!
This premier antique show features the finest selection of early antiques from dealers across the country. Admission also includes a tour of the Museum of Appalachia, demonstrations from pioneer craftsmen, traditional cooking, live music, a Civil War & Revolutionary War encampment, southern fare & more!.
Primitive Antiques
16th & 17th century primitive antiques from dealers all over the nation. Over 60 dealers on-site with a wide variety of nostalgic selections! Traditional craftsmen demonstrating Pioneer skills: Blacksmithing, Sorghum making, Sawmilling, Spinning, Weaving & more!
Live Mountain Music: The Tenos, Hominy Mamas, Uncle Shuffelo & His Haint Hollow Hootenanny, Matt Morelock, The Fisher Family Band, Appalachian String Quartet, Museum of Appalachia Band, Ruth & Morgan Simmons, Firehouse Band & more!
Tickets can be purchased at the Museum of Appalachia upon arrival. This event is free for Museum Members. Ticket Prices:
$20.00 per adult
$6.00 per child (age 5-17)
Under 5 free
**You can apply your ticket price toward the purchase of a museum membership!
Museum of Appalachia, 2819 Andersonville Hwy., Clinton, TN 37716 (16 miles north of Knoxville at I-75, exit 122, then one mile east). Open every day except Thanksgiving and Christmas. Information: 865-494-7680, www.museumofappalachia.org
Tennessee Theatre: WIMZ Presents The Black Jacket Symphony: AC/DC's Back in Black
Category: Music
The Black Jacket Symphony returns to the Tennessee Theatre to performAC/DC's Back in Black album in it's entirety!
The Black Jacket Symphony offers a unique concert experience by recreating classic albums in a live performance setting with a first class lighting and video production. A selected album is performed in its entirety by a group of handpicked musicians specifically selected for each album. With no sonic detail being overlooked, the musicians do whatever it takes to musically reproduce the album. Following the album and a brief intermission, the Black Jacket Symphony returns to the stage to perform a collection of greatest hits by the evening's artist.
For more info on The Black Jacket Symphony or to view videos of past performances, visit blackjacketsymphony.com or facebook.com/blackjacketsymphony.
Tennessee Theatre, 604 S. Gay Street, Knoxville, TN 37902. For information/tickets: 865-684-1200, www.tennesseetheatre.com, www.ticketmaster.com
Bijou Theatre: The Earls of Leicester
Category: Music
The Earls of Leicester have discovered a kind of magic that, when harnessed, allows moments once relegated to memories to roar back to life.
Old sounds rattle loose chains of space and time that have kept us from forgotten joys and who we once were. Suddenly, as we listen to and watch the Earls pick, saw, and croon, instead of contemplating once upon a time, we are living it. "Many audience members have come up to me after a show and said, 'I thought that sound was gone,'" says Dobro master Jerry Douglas, the group's founder. "And that's just how it struck me when the band rehearsed the first time. I hadn't heard that sound since Flatt and Scruggsexperienced that meeting in the air of those notes in that particular way. It's an emotional experience."The Earls' lead vocalist Shawn Camp remembers that first rehearsal just as well. "Only eight bars into the music I had to stop everybody because it made my hair stand upit was so close to what Flatt and Scruggs sounded like," he says. With their second album Rattle & Roar (Rounder Records), the Earls have conjured up a fresh batch of Lester Flatt and Earl Scruggs songs, delivered with the Earls' now signature blend of homage, virtuosity, and perspective. The inimitable Douglas remains the band's producer and hypnotic Dobroist; blue-ribbon songwriter, singer, and producer Camp still soars on lead vocals and guitar; revered multi-instrumentalist and sideman Jeff White now deftly handles high harmony and mandolin; ace Nashville banjoist Charlie Cushman tackles banjo and guitars; topflight musician Johnny Warren cuts in radiantly on fiddle; and the esteemed Barry Bales, a longtime bandmate of Douglas in Alison Krauss and Union Station, holds magnificently steady on vocals and bass. "It's like the band was predestined to come together," says Camp. "We all love it. From the very first note of our show, I look around and everybody's got a smile on their face. There's just something about the music that makes you feel good."
Bijou Theatre, 803 S. Gay Street, Knoxville, TN 37902. Information/tickets: 865-522-0832, www.knoxbijou.com, www.ticketmaster.com
Mighty Mud: Raku Firing
Category: Classes, workshops, Exhibitions, visual art and Fine Crafts
Instructor: Megan Schefter
All ages and experience levels are welcome to participate in this event. This could be fun for the family, kids love the Raku process; or it could be a great "date night" event. The immediacy of Raku firings allow you to take home a beautiful piece of pottery for your home that night, but these decorative pieces are not food safe.
$35.00 - All Materials Provided
Mighty Mud, 127 Jennings Avenue, Knoxville, TN 37917. Hours: Tu-F 11-6, Sat 9-5. Open studio time on Thu 6-9. Information: 865-595-1900, www.mightymudclay.com
Knoxville Museum of Art: Alive After Five
September 14, 2018
6-8:30 PM
Category: Music
The Royal Hounds
Alive After Five is a unique live music series that takes place in the smoke-free, casually elegant setting of the Ann and Steve Bailey Hall in the Knoxville Museum of Art. There is a live band on stage, seating at tables, two cash bars, food from area restaurants, free freshly popped popcorn, and free parking. Audience members can enjoy listening to music, dancing, and browsing the museum's art galleries. Admission is $15 for general and $10 for museum members and college students with ID. Ages 17 and under are admitted free.
Knoxville Museum of Art, 1050 World's Fair Park Dr, Knoxville, TN 37916. Hours: Tuesday-Saturday, 10AM-5PM, Sunday, 1-5PM. Information: 865-525-6101, www.knoxart.org
2018 Korea America Cultural Friendship Festival
Category: Dance, movement, Festivals, special events, Free event and Kids, family
Free to Public - 2018 Korea America Cultural Friendship Performance
The Korea America Cultural Friendship Festival is great opportunity to view Korean traditional dance performance in Knoxville area, TN. this Free event presented by Master Sang-hoon Cho (the 7th Certified Human Cultural Heritage in Korea), Yeong-mee Koo (the 73rd Certified Human Cultural Heritage in Korean) and Kui-bong Park with Foundation of International Dance Festival in Atlanta, GA. Knoxville Area Korean Association is supporting this amazing performance with local community. Please bring your families and friends to enjoy this incredible event.
If you generously RSVP to knoxvilleareakorean@gmail.com, text only to Gina Phillips, 865-300-4886 by Wednesday, September 12th, 2018), it helps us to arrange parking spaces/seats and safety)
For more information at Knoxville Area Korean Association website: www.kaka865.com
https://www.claytonartscenter.com/event/2018-korea-american-cultural-friendship/
Ronald & Lynda Nutt Theatre, Clayton Center for the Arts, 502 E Lamar Alexander Pkwy, Maryville, TN 37804
UTK Campus Events Board: The Local
September 14, 2018
7:00-11:00pm
Category: Festivals, special events, Free event and Music
The Local with Art Smashes Records, O Summer & The Afternooners, hosted by Campus Events Board at the University of Tennessee, Knoxville on Friday, September 14 at 7 PM – 11 PM in the Fred Brown Amphitheatre, 1817 Andy Holt Ave.
The Local is back for its second show of the fall! Come out to Fred Brown Amphitheatre Friday September 14th from 7-10 p.m. We will have live music, vendors, food, giveaways and more!
LINEUP 9/14:
-Art Smashes Records
-O, Summer
-The Afternooners
LOCAL MARKETPLACE VENDORS:
-Deli's Wall Babies
-Fray Pearls
-N with the Old
GIVEAWAYS:
-The Local 2018 T-shirt (first 100 guests)
-The Local stainless Steel water bottle (first 100 guests)
-The Local Canvas shopping bag (first 150 guests)
PARTNERS:
-WUTK: UT's College of Rock
This event is free and open to the public.
This event is funded in part by the Student Programs and Services fee. For questions or to arrange disability accommodations, please contact the Center for Student Engagement at (865) 974-5455. For more information about the Campus Events Board please visit https://go.utk.edu/campus-events-board/.
Beer & Hymns Comes To Knoxville's The Square Room
Category: Music
In partnership with Black Abbey Brewing Co. (based in Nashville but with a longtime Knoxville presence), pub sing act "Beer & Hymns" of Nashville will play The Square Room (4 Market Square, Knoxville, TN 37902) for the first time. Doors open at 6.30 and the show begins at 7.30 p.m. Tickets ($10 each) are available in advance via Eventbrite and also through www.beerhymns.com. If available, they will also be sold at the door on Friday, September 14th.
Beer & Hymns, now in their 5th year, is pleased to attract 400-person sell-out pub sing crowds at revered Nashville rock club, Mercy Lounge. "We started in 2013 as a handful of Presbyterians on my friend's suburban porch deck," notes leader Geoff Little. "And I think the reason we have grown – it is this basic human thing – group singing, like chanting cavemen or a native drum circle," he laughs. "And the secret sauce, perhaps, is we group leaders up front – try to show confidence for everyone in the room – that this group singing thing is quite normal, and we should all be doing this!"
Little notes, "Despite what one might think from the name Beer & Hymns, I don't consider us to be a religious event like a church service or a meeting connected to a denomination. There's no agenda or "talk" planned. You don't have to drink alcohol, either; it's not some drunken slog. Singing songs with other humans is a natural endorphin release. It feels good – and it is bonding. In that regard, it is spiritual. That's why we do it, to bring people together from all walks of life, to sing as one."
Examples of the hymns – listed specifically for September 14 in full at www.beerhymns.com/songs include the Irish folk tune and hymn 'Be Thou My Vision,' 'Amazing Grace,' 'It is Well (With My Soul),' and 'Blessed Assurance.' But Little notes, "we like to mix it up. Not to give away the Knoxville show's surprises, but for example, we'll sing together a bit of Queen's 'Bohemian Rhapsody,' do an old U2 chart topper, and attempt a one-hit wonder from the early 90s." The show is intended for ages 18 & over. In order to consume alcohol, one must have a valid government-issued ID showing age 21 or older.
Founded in 2013, Beer & Hymns from Nashville (there are other, unaffiliated chapters around the world) is one of the largest and most active.
www.beerhymns.com