Calendar of Events
Tuesday, October 30, 2018
UT School of Music: Octubafest
October 30, 2018 — November 1, 2018
Category: Festivals & special events, Free event and Music
Octubafest Concert No. 1
Faculty recital; tuba performance by Alexander Lapins
Tuesday, October 30 at 8:00pm to 10:00pm
Octubafest Concert No. 2: OCTUBAWEEN
Ensemble event; featuring UT's tuba and euphonium ensembles. Performers and audience members will compete in a costume contest!
Wednesday, October 31 at 8:00pm to 10:00pm
Octubafest Concert No. 3
Solo recital; student tuba/euphonium soloists
Thursday, November 1 at 8:00pm to 10:00pm
All at Natalie Haslam Music Center, Sandra G. Powell Recital Hall
UT School of Music: Unless otherwise noted, concerts are FREE and open to the public. The Alumni Memorial Building located at 1408 Middle Drive on the UT campus. (The James R. Cox Auditorium is located in the Alumni Memorial Building.) The Natalie Haslam Music Center is located at 1741 Volunteer Blvd on the UT campus. *For individual or small group performances, please check the web site or call the day of the event for updates or cancellations: 865-974-5678, www.music.utk.edu/events
UT School of Music: Christina McGann; violin and Heather Connor; piano
Category: Free event and Music
Guest artist recital; faculty members from Vanderbilt's Blair School of Music
Tuesday, October 30 at 6:00pm to 7:30pm
Natalie Haslam Music Center, Sandra G. Powell Recital Hall
UT School of Music: Unless otherwise noted, concerts are FREE and open to the public. The Alumni Memorial Building located at 1408 Middle Drive on the UT campus. (The James R. Cox Auditorium is located in the Alumni Memorial Building.) The Natalie Haslam Music Center is located at 1741 Volunteer Blvd on the UT campus. *For individual or small group performances, please check the web site or call the day of the event for updates or cancellations: 865-974-5678, www.music.utk.edu/events
Pellissippi State: Fall Instrumental Concert
Category: Free event and Music
All music performances are in the Clayton Performing Arts Center and are free and open to the public.
Hardin Valley Campus of Pellissippi State: 10915 Hardin Valley Road, Knoxville, TN 37932. Information: 865-694-6405, www.pstcc.edu/arts
Knoxville Symphony League Elegant Dining: A Ghost Tour of the Historic Bijou Theatre
Category: Culinary arts, Fundraisers and History & heritage
Part of the Elegant Dining Series and open to everyone.
At Bijou Theatre/Bistro at the Bijou
Start your Halloween celebration a day early with a ghost tour of the Historic Bijou Theatre. Whether or not you believe in ghosts, the night will be a real "ghoulish" experience. Who knows? We might even encounter some of the theatre's past residents! A delicious dinner will be served at The Bistro By the Bijou prior to the tour.
$70/person, limit to 20 guests
Menu: soup of the day or house salad, grilled lemon chicken with Brussels sprouts over Panzanella salad, choice of ice cream or lemon cake, tea and coffee
https://www.knoxvillesymphony.com/event/383/a-ghost-tour-of-the-historic-bijou-theatre-elegant-dining/
Pellissippi State: Amanda Swanson Photography
October 29, 2018 — November 16, 2018
Category: Exhibitions & visual art and Free event
Opening reception with the artist scheduled for 3-5 p.m. Monday, Oct. 29.
The colorful world of cosplay is coming to Pellissippi State Community College this fall with a photography exhibit celebrating the custom costumes, props and make-up that bring fictional characters to life. Cosplay -- short for costume play -- is a social activity in which fans dress up like characters from works of fiction such as comic books, video games or television shows. Cosplaying is the practice of constructing or wearing these types of costumes. Swanson, a professional photographer who graduated from Pellissippi State in 2015, enjoys cosplaying and has been photographing cosplayers for five years, both at conventions and on location. She sees cosplay as both art form and self-expression.
"What we're doing is portraying the characters we love," said Swanson, who started photographing cosplayers to show off their hard work and talent with costumes and makeup. "I love the cosplay community because it's fun to find others also dressed from the same series you are cosplaying from or even as the same character that you are cosplaying as. You get to have that instant connection with all these people you just met."
Swanson's favorite cosplay photo shoots include a Batman group at a convention in Atlanta and a recent portrait of a cosplayer dressed as Violet Evergarden, the title character from a Japanese light novel series that was adapted into an anime television series now on Netflix. Swanson's goal for her exhibit at Pellissippi State is to represent as many different characters as possible through the 17x22-inch prints hanging in the gallery and 4x6-inch prints displayed on a kiosk.
Bagwell Center Gallery hours: M-F 10-6:30. Hardin Valley Campus of Pellissippi State: 10915 Hardin Valley Road, Knoxville, TN 37932. Information: 865-694-6405, www.pstcc.edu/arts
Mysterious Past of the Blount Mansion: Legends Customs and Myths
October 27, 2018 — October 31, 2018
6:30 PM
Category: Festivals & special events, History & heritage and Kids & family
Enjoy a frightfully authentic encounter with the past this Halloween at the circa-1796 Blount Mansion, Knoxville's only National Historic Landmark. Once again we will offer special evening tours of our historic house and gardens, beginning with Cherokee ghost stories outside and culminating with a flashlight tour of the mansion and Halloween treats inside our visitors center. Cost is $10 per person.

Tours will take place from 8-9:30 p.m. on Saturday. Oct. 27, Monday, Oct. 29, and Tuesday, Oct. 30, and from 7:30-9:30 p.m. on Halloween night, Wednesday, Oct. 31.

Starting at 6 p.m. on Monday evening, Oct. 29, "Dr. Carvenstein" (graphic artist Ken Clayton) will offer a special pumpkin-carving seminar in the visitors center.

On Halloween night, we are offering a limited, special tours of the circa-1818 Craighead Jackson House from 11 p.m.-midnight. Special ticket required/$50 per person.

NEW THIS YEAR: Also on Halloween night, our The Big Camera will offer an evening of haunting historical photography! Learn how Spirit Photographs were created and leave with your own digitally printed Tin Type! No extra charge/donations accepted to cover costs of materials, etc.

NOTE: The Blount Mansion will be closed for regular tours during the day Oct. 27-31 so we can prepare the house for the evening events.

Free parking is available during the event at the Blount Mansion Visitors Center and in the Dwight Kessel Garage across the street. Blount Mansion, 200 W. Hill Avenue, Knoxville, TN 37902. Information: 865-525-2375, www.blountmansion.org
Arrowmont School of Arts and Crafts: Juried Student Show (Figurative Association)
October 26, 2018 — December 8, 2018
Category: Exhibitions & visual art, Fine Crafts and Free event
Reception date TBA
In the Geoffrey A. Wolpert Gallery
Arrowmont School of Arts and Crafts, 556 Parkway, Gatlinburg, TN 37738. Information: 865-436-5860, www.arrowmont.org
Arrowmont School of Arts and Crafts: Figurative Association
October 20, 2018 — January 12, 2019
Category: Exhibitions & visual art, Fine Crafts and Free event
Arrowmont School of Arts and Crafts will host the third Figurative Association Symposium from November 7-10, 2018. In 2010, Arrowmont presented the first symposium, which focused on and featured the figure in ceramics. In 2014, we expanded that focus to include sculpture in all media. Now, in 2018, we are welcoming all disciplines to the symposium – including 2-D, 3-D and expanded media.
https://www.arrowmont.org/visit/events/figurative-association-symposium/
In the Sandra J. Blain Gallery
Arrowmont School of Arts and Crafts, 556 Parkway, Gatlinburg, TN 37738. Information: 865-436-5860, www.arrowmont.org
James White's Fort: HearthScares Tours 2018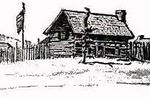 October 18, 2018 — October 30, 2018
7-9 PM
Category: Festivals & special events and History & heritage
October 18, 19, 22, 23, 29, 30 -- 7-9 PM
TICKETS AVAILABLE at https://www.jameswhitesfort.org/jwf-halloween-bash/
Come and join the spirits for a tour of Downtown Knoxville's scariest landmarks. The tours, which last approximately two hours each, will visit the sites of some of Knoxville's best kept secrets. The tour will be about one and a half miles in length. All tours begin and end at James White's Fort located at the intersection of Hill Avenue and Hall of Fame Drive. Ample free parking is available for tour participants at the Fort.
RESERVE YOUR PLACE NOW BEFORE THE GHOSTS AND GOBLINS DO!
James White's Fort, 205 E. Hill Ave, Knoxville, TN 37915. Information: 865-525-6514, www.jameswhitefort.org
Ewing Gallery: Oyler Wu Collaborative
October 17, 2018 — October 31, 2018
Category: Exhibitions & visual art, Fine Crafts and Free event
The Ewing Gallery is excited to collaborate with the UT College of Architecture and Design to bring an exhibition of work by the Oyler Wu Collaborative to Knoxville. This exhibition features original drawings, documentation of large-scale projects, digital drawings, models, and 3D printed jewelry from Jenny Wu's line, Lace.
Oyler Wu Collaborative is an experimental architecture and design firm located in Los Angeles, California. The office approaches architecture and design with a critical and rigorous intent that challenges the typical vision of the built environment. Recent works encompass a variety of scales, from products and installations to residential and institutional buildings. Oyler Wu was selected by the city of L.A. to be a part of the design team for the Los Angeles River Bikeway/Greenway project.
Dwayne Oyler and Jenny Wu established their practice in 2004. Since then, Oyler Wu Collaborative has been published globally and is recognized for its excellence in architectural design, research, and fabrication. Projects recently completed include: the 3D printing showroom and office space for 3DS Culinary in Hollywood, CA; the Stormcloud pavilion for SCI-Arc 40th anniversary event; the Cube, the winning pavilion entry for the Beijing Biennale; Taipei Sales Center, a 5 story commercial building; as well as a 16 story residential tower in Taipei, Taiwan.
Gallery hours:
M, T, W, F: 10am - 5pm
TR: 10am - 7:30PM
SUN: 1-4PM
Ewing Gallery, 1715 Volunteer Blvd on the UT campus, Knoxville, TN 37996. Information: 865-974-3200, www.ewing-gallery.utk.edu
TVUUC Gallery: Exhibition by Randy Arnold and Herbert Rieth
October 14, 2018 — December 13, 2018
Category: Exhibitions & visual art and Free event
Art Exhibit at Tennessee Valley Unitarian Universalist Church - Free and open to the public
Reception Friday, October 19, 6:00 to 7:30 pm. Artists' talks at 6:30 pm.
Randy Arnold: Blurring the Line
Arnold's work often derives from personal experiences and contemporary or historical contexts. He is interested in patterns constructed by belief systems and the evolution of their physical manifestations. He attempts to illuminate these various structures as they express themselves in nature and the human condition. There is a blurring of the line between these distinct paradigms, yet they are synchronistically connected through layers of ancient and present.

Born in St. Louis, Missouri, Arnold has made his way through life along the path of the Lewis and Clark trail, via Wisconsin, South Dakota, Oregon, and finally Knoxville, Tennessee. He works at the Three Rivers Market cooperative and as a teacher at Pellissippi State Community College. His passion has always been art, from the age of six, when he became interested in drawing people and maps of the world. He has a BFA from Columbia College Art School, Columbia, Missouri, and an MFA in printmaking from the University of South Dakota. He was an artist in residence at the Oregon College of Arts and Crafts.

Herbert Rieth
The paintings in this cycle are based on Rieth's takes on mythological sources and have served as a way of processing life and world events. The artwork is largely mixed media acrylic painting, but the painting component has become a larger part of the image-making process. The works touch on loss, conflict, aging and ego.

Rieth is an artist and educator based in Oak Ridge, Tennessee. He works in a variety of media and modes, from mixed media fabric work to interactive installation and sculpture, and has shown work internationally and in 25 states of the USA. He received his BA from Indiana University in 2000 and his MFA from the University of Cincinnati. He is an Associate Professor of Visual Arts at Pellissippi State Community College.
Tennessee Valley Unitarian Universalist Church, 2931 Kingston Pike, Knoxville, TN 37919. Gallery hours: M-Th 10-5, Su 10-1. Information: 865-523-4176, www.tvuuc.org
Central Cinema Screenings
October 8, 2018 — December 31, 2018
Category: Film
Central Cinema is a community moviehouse located in the heart of North Knoxville's Happy Holler neighborhood. We open 45 minutes before the day's first showtime and close our concession stand as the final film lets out.
Every weekend we present a selection of classic films and/or first-run independents, usually including both Family Matinees & cult movie-oriented Late Shows. This standard programming is complemented during the week by special film & arts events of all sorts. (Click through to our Films page to browse current & upcoming programming.)
Central Cinema's single auditorium features 4K digital projection and 96 seats custom-decorated with movie moments selected by friends and supporters. At the end of the adjoining gallery hallway is our concessions lounge, featuring both inside seating and a deck for good times & discussion before and after film screenings. Central Cinema offers a variety of food and drink options, from movie theater staples to locally-sourced treats and a selection of canned & bottled beers.
TICKET PRICING: $10 Evening, $9 Students & Military, $8 Matinee & Seniors, $7 Kids, $15 Double Features
Central Cinema, 1205 N Central St, Knoxville, TN 37917. Information: info@centralcinemaknox.com, (865) 951-2447, https://centralcinema865.com